Pebbles at Holy Trinity Church, Primrose Hill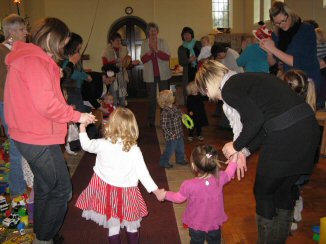 Baby and toddler group

Stories, Music, Activities,
Toys and Refreshments

A group run by the Church for Little ones from birth to pre-school age along with their carers. –Meeting Thursday mornings 9.30am – 11.30am during term time.

This is an opportunity to make new friends and meet with old ones over tea or coffee.

Parents, grandparents and carers bring their little ones for a time of play, music and singing, stories and other activities.
We also enjoy a mid-morning snack time together.

There is no charge, but a donation towards the food is much appreciated.

Contact: Revd. Pat Cox 01594 843852 or Andrea Lovekin 01594 843862 for more information or just come along – you will be very welcome.