Pebbles at Holy Trinity Church, Primrose Hill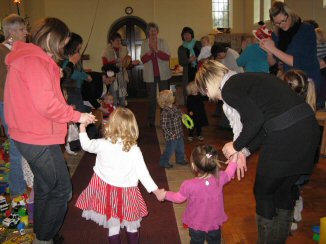 A group run by the Church for Little ones from birth to pre-school age along with their carers.

We meet on Thursday mornings, from 9.30am to 11.30am, during term time.

This is an opportunity to make new friends and meet with old ones over tea or coffee.

Parents, grandparents and carers bring their little ones for a time of play, music and singing, stories and other activities. We also enjoy a mid-morning snack time together.

There is no charge, but a donation towards the food is much appreciated.

Contact: Revd. Pat Cox, 843852, contact us through the Parish Administrator on 842321 or use the Contact Us page and we will be in touch with you.

Alternatively, just come along – you will be very welcome.